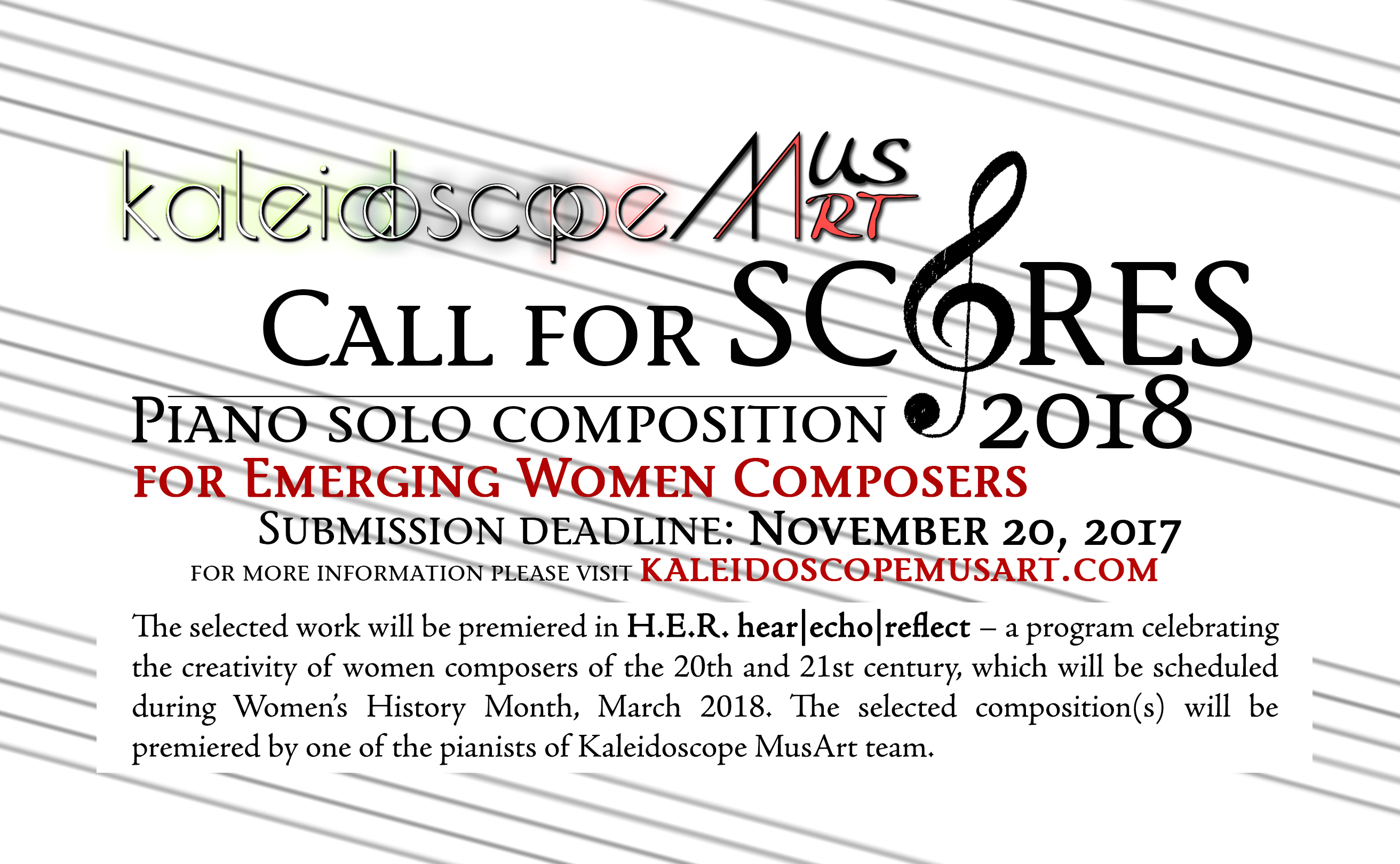 The reviewing panel was impressed by the plurality of compositional styles and voices displayed in the 27 applications received. The preliminary selection has revealed 7 compositions noted for their originality, inventiveness, and expressive potential.  
The final results are as follows:
Winning compositions (tie):*
Nahyun Kim: "Hypochondriasis" for piano solo
Mei-Fang Lin: "Mistress of the Labyrinth" for piano solo
Special Citations:
Special Citation for powerful and sincere musical expression of perennial and current, individual and collective humanistic and existential topics:
Niloufar Nourbakhsh

: "HbeaRt" from

F I X E D HbeaRt

for Piano and Live Electronics/Fixed Audio Media**
Special Citation for inventive use of extended techniques:
Liza Sobel

– "VI. Didgeridoo"  from

Pianagerie

– Seven vignettes for piano solo
*One of the winning compositions will be performed in H.E.R. hear| echo | reflect. The other selected work will be programmed in Kaleidoscope MusArt's 2018-19 concert season.
** To be programmed in Kaleidoscope MusArt's 2018-19 concert season.
_____________________________________________________________________________________________________________________________________________________________________________________________________________________________________
Open to emerging women composers.
AWARD:
• Performance of the composition at the Steinway Piano Gallery Miami, in H.E.R. hear|echo|reflect program of the Kaleidoscope MusArt "Spotlights" Series. This  concert will be scheduled during Women's History Month (March 2018), celebrating the creativity of women composers.
• The selected composition will be performed by one of our Kaleidoscope MusArt team members. To learn more about the pianists in the team, click here.
• The performance of the selected work will be recorded live, and shared on our youtube channel and other social media upon composer's approval.
• All submissions will be reviewed by Kaleidoscope MusArt team members.
• The artistic committee may choose two shorter works, or one longer composition for this occasion.
• All works submitted will be considered for future programming.
GUIDELINES:
1. Length of composition: 6-10 mins.
2. The composition can include the use of fixed audio media. *
3. The submitted work can include extended techniques. *
4. The submitted work cannot be for a prepared piano. *
* Contact us at info@kaleidoscopemusart.com for further information, inquiries, or concerns. 
IMPORTANT DATES:
• Submission deadline: November 20, 2017
• Results to be announced: December 15, 2017
• Performance of the work:
March 24, 2018, at 5:00pm
hear | echo | reflect
at the Steinway Piano Gallery
4104 Ponce De Leon Blvd, Coral Gables, FL 33146
(This concert presented as part of Kaleidoscope MusArt's Spotlights Series, 2017-18 season Out of Doors)
APPLICATION MATERIALS:
1.  PDF of the submitted composition. Optional addition to submission: MP3 recording (midi-file acceptable).
2. A brief description of the work.
3. CV/Resume.
4. List of works (including instrumentation and dates of composition).
5. Two work samples (PDF + audio/video recording), at least one of which must be a composition for solo piano.
6. Administrative Submission Fee: $15. Please include the receipt with your application.
7. Send all the required materials in one email, either as attachments and/or links to info@kaleidoscopemusart.com with the subject line: Call for Scores 2018 + Your Name.
8. Application materials and payment are both due on November 20, 2017.